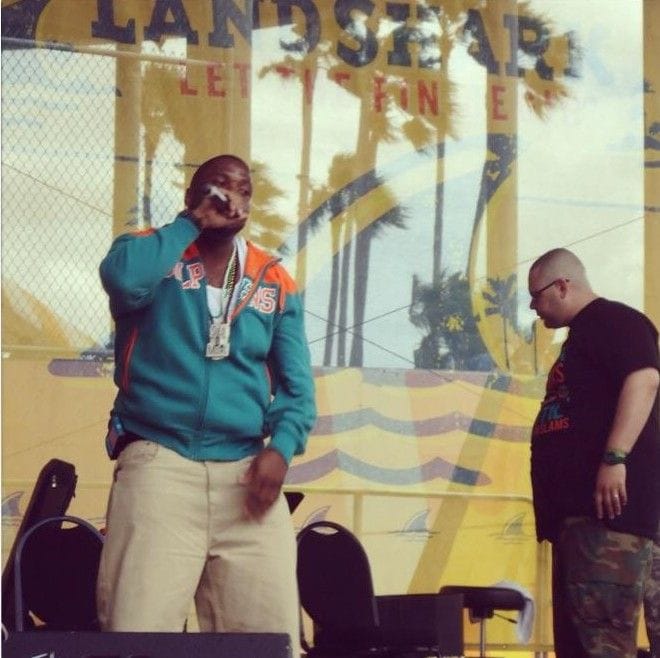 Tuesday, May 20th, 2014 – Los Angeles, CA – Following the release of his popular club single and music video "Double Tap", rising Miami hip hop artist SoLo D has been confirmed to perform at the Artist Under Press Fashion Festival presented by Gold Minds.
Artist Under Pressure Fashion Festival is an all ages event and is open to the public -taking place on Friday, June 27th from 4pm – 9pm at the Silver Spring Civic Center in Silver Spring, Maryland.  For more information or to purchase tickets, please visit: www.facebook.com/ArtUnderPressureFest
The upcoming performance will be the latest live set to be added to SoLo D's growing list of appearances. He's shared the stage with some of today's most notable names in hip hop including Meek Mills, the legendary Bun B, Trinidad James, Kirko Bangz, Kid Ink, Trina and Travis Porter.
Additionally, SoLo D created the movement Miami DolFan in 2010 dedicated to his hometown team the Miami Dolphins.  He creates and performs all original music at the home stadium and at away games for the huge crowd of Dolphins fans. "Throw It Up" is an amped up track that engages the fans before each game; SoLo D's been releasing a new song each week and has launched an official Facebook page to coincide with the movement: www.facebook.com/FinsUpMusic
He's also launched similar movements for the Miami Heat fans. SoLo D's new Mixtape LiFe is slated to debut in the coming months.
About SoLo D
SoLo D is an emerging rapper, producer and songwriter from Miami, Florida but currently residing in DC. After the successful release of his fourth mixtape, "Coming Out The Shadows" – he quickly began gaining new fans and notoriety. The 7-track tribute to his role model and favorite rapper 2Pac made a great impact on his career. The streets continued to buzz about SoLo D who proclaims him self to be "one of the last" real rappers.
His latest effort "Double Tap", produced by DJ Dila & PTB Beats of World Famous Beatz out of Germany is an authentic reflection of an artist who is passionate about the style of music he creates. SoLo D offers a unique approach to making music and strives to create music his fans will enjoy. He is wasting no time in his mission of reaching the masses with his deep and real messages he displays in his songs, reflecting personal and real life experiences. Management contact: glew[a]honest-management.com
Official Website: www.solodmusic.com 

###
SoLo D Confirms Performance at Artist Under Pressure Fashion Festival
was last modified:
May 20th, 2014
by