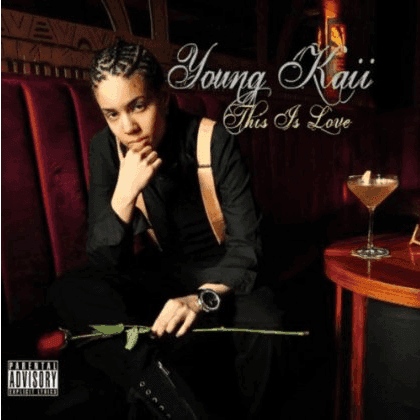 Female rapper Young Kaii makes introduction with new album
Los Angeles, December 12, 2012 – Upcoming rapper Young Kaii has released her long-awaited album, "This is Love" today December 12th.
Produced by D'Luz and Dice Da Genius, the debut effort features 14 tracks riddled with messages & tales of love. The album is now available through several digital distribution outlets such as iTunes, Spotify and Amazon.
Self-proclaimed as the "LGBTQ community's artist!" Young Kaii brings a diverse flow and undeniable uniqueness to hip hop. A proven lyrical threat the Rhode Island native aims to inspire others through her music.
The 'Careless'  rapper has already garnered loyal fans not only through her music, but also through community outreach. Kaii's goal for "This is Love" is to display her authentic concern for diversity. As a lyricist she's positioned herself to be a roadmap for similar acts looking to break the norm.
Young Kaii
Born October 8, 1987 Young Kaii, formerly known as K Star, is a talented female rapper who fell in love with hip hop at a very young age. Writing her first verse at fourteen, Kaii discovered rapping and writing as a way for her to release the stress of a not-so-perfect home environment.
Using her life experiences as a driving force, she began to turn the negativity of having hustling brothers and poverty stricken parents into lyrical masterpieces. Soon after, Young Kaii released a series of mixtapes including "The Gossip Volume 1," which has created a huge buzz not only in her hometown of Providence, Rhode Island but also in New York, Miami as well as her parents' home of the Dominican Republic.
Kaii is an individual focused on embracing who she is without placing restrictions on her music. Creating lyrical masterpieces with such passion and dedication it serves as fuel and the driving force behind her movement. She pushes through the obstacles shattering the glass ceiling others often allow to keep them down. Young Kaii strives to be different yet creative which flows through the lyrics she writes. Diversity is what she aims for with her style of music, growth is what she wants to have as an artist and unity is her desire for all.
She's built a platform in which fans and supporters alike can see the originality, passion and drive of an artist who is driven by something much deeper than fame. Her versatility stems not only with her ability to produce punch line after punch line, but also from her hunger for success, and willingness to push the envelope. She has achieved greater notoriety in her ability to reinvent herself. Self-proclaiming herself as the new LGBTQ artist of the year Kaii's success has resulted from mass support outside and inside the LGBTQ community.
Supporting, encouraging and influencing others through her music are Young Kaii's goals. For Young Kaii, there are no limits!
Facebook: www.facebook.com/youngkaiimusic
Twitter: www.twitter.com/YoungKaii
Young Kaii Releases "This is Love" Album
was last modified:
October 31st, 2023
by