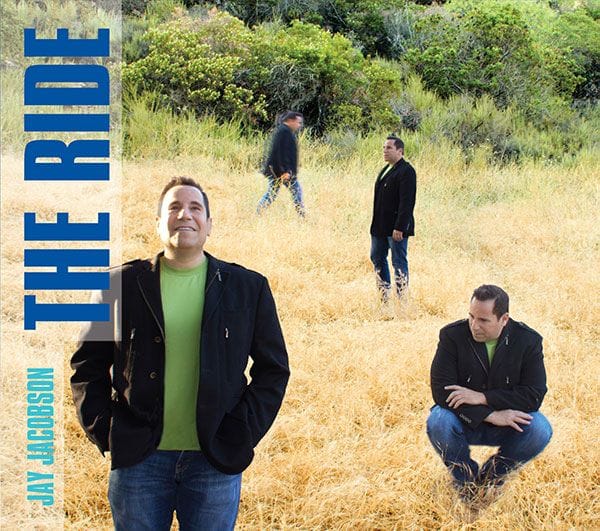 Tuesday, September 16, 2014, Los Angeles, CA — From his eloquently smooth vocals and beautifully arranged songs, to the variety of sounds offered in his music, acclaimed singer-songwriter Jay Jacobson's new CD, "The Ride" delivers a one-of-a-kind experience of emotional trip-hop, electronic dance and soulful ballads framed by exquisite pop-infused orchestrations. Jacobson's fifth studio album, "The Ride" features 11 all-original songs that perfectly channel the highs and lows of life expressed through the purity of his voice and thought provoking lyrics. "The Ride" will debut on Tuesday, October 14th on iTunes, Amazon, CD Baby and several other online retail outlets.
One of the album's most popular singles, the dance anthem "Animal", showcases Jay's ridiculously incredible vocal range atop a bouncy electro-dance production. The remaining 10 tracks, continue the album's tone offering an unforgettable musical ride.
From the heartfelt, "Maybe One Day" written for his recently passed away grandmother, to the whimsical exuberance of "Taking the Long Way Home", to the bittersweet reflection of "I Lived", "The Ride" expertly showcases Jay's unique sound and emotionally stirring songwriting as they create a journey through life's ups and downs, loves and losses, and the strength of the human spirit. "I wanted to write about the acceptance of life, with all its bumps and wrinkles included," said Jay.
In addition to the forthcoming release, Jay is putting the finishing touches on a series of new music videos for the songs featured on "The Ride". The album's first single, "With Our Love", with be released on Tuesday, October 7th and will be available on iTunes.
About Jay Jacobson

A Los Angeles based singer and songwriter (originally from Philadelphia), Jay Jacobson, has released five full length CDs of his original music which have been played on radio and podcasts around the world. He was recently named "The One to Watch" on the "Off the Charts" UK radio show. His CD, "Ready", includes the Top Ten internationally charting single, "Boy". In 2010 he released his first music video for the song, "Love is Love", (from his CD "Revelations") which created a buzz (including stories in USA Today Online, On Top Magazine, and Towleroad), and went on to win multiple awards in film festivals. Jay wrote, performed and produced a hugely successful live one-man-show, "Mental Creatures", which followed the journeys of three different people (a young painter, a widowed woman, and an elderly man) along with several supporting characters, weaving songs from his catalogue of CDs throughout the show. This critically acclaimed show and audience favorite had a successful six week run in Hollywood, California at "The Lounge Theater 2". It was his first play as a writer or producer.
Official website: www.jayjacobson.com
Acclaimed singer-songwriter Jay Jacobson to debut new album, "The Ride" on October 14th
was last modified:
June 6th, 2016
by