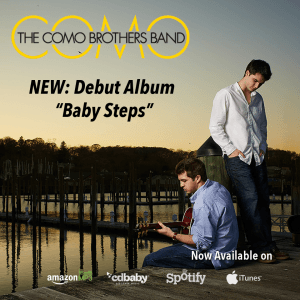 Tuesday, October 1, 2013 – Los Angeles – Days shy of receiving a five star review of their first full-length album "Baby Steps" from Examiner, The Como Brothers Band are set to release their new project on October 1st.  The album will be available in select stores in addition to iTunes, Amazon and CD Baby.
Two of the forthcoming album's singles, "Straight Face" and "Late Nights" were released earlier this summer and have quickly become fan favorites. Written by singer-songwriter brothers Matt and Andrew Como, and produced by Mike Watts and Tom Flynn, "Baby Steps" unveils the work of two talented artists.
Having grown up performing in a Beatles tribute band on Long Island The Como Brothers have proved to be true musicians. Channeling their love of singing and music composition, Matt and Andrew aim to create original music that is fun to groove out to, but at the same time can be relatable and meaningful to fans.
"We wanted to make an album that was as accessible as it was relatable. The topics of the songs are very universal. There's nothing on there that will cause anyone to say, 'Well, I really have no idea what they're trying to tell me.' Everything is pretty straightforward, and that's exactly how we wanted it to be. We wanted to write a pop album, but on our own terms." said guitarist and singer Andrew Como.
The Como Brothers Band will be opening for American Idol's seventh season winner, rocker David Cook on October 25th at 89 North Music Venue in Patchogue, New York. Tickets for the show are available at: brownpapertickets.com
Past performances include opening for the The Wallflowers and Jillian Jensen. They've also played numerous music festival events throughout the northeast and popular music venues like Hard Rock Café, Highline Ballroom and Nikon Jones Beach Theatre.
Music from their previous EP's, "The Speed of Sound" [January 2012] and "Still Waters" [March 2013] has appeared on episodes of E! Network's Keeping Up with the Kardashians, MTV's Real World Portland & St. Thomas, and Oxygen channel's Best Ink. In addition to opening for David Cook, The Como Brothers Band will be performing at the CBGB Festival 2013 on October 11 at Tammany Hall; and the New York City Marathon on November 3rd.
The Como Brothers Band
Matt and Andrew Como are songwriters and musicians that value organic music, and songs with original integrity. All of their songs are credited as written by Matt and Andrew Como. Music is not a hobby of the brothers but a way of life and a career. Early in life their Dad and his brothers played music at family parties and Matt and Andrew were inspired along with their parents encouragement, to play music. Music was a big part of their lives throughout childhood and their teenage years. They extensively played live throughout high school and college and are now an experienced live act. In 2010 they officially began the rock band The Como Brothers Band and have been pushing forward for their dreams of a long-term career in music.
Currently, the band is promoting their new full-length CD "Baby Steps", which was recorded at VuDu Studios in New York. Under The Gun Review said of the album "pretty much the whole of Baby Steps is catchy as hell", while IX Daily said "The Como Brothers Band excel on their debut".
Official website: www.comobrothersband.com
Twitter: www.twitter.com/comobrosband
Facebook: www.facebook.com/comobrothersband
Como Brothers Band to release "Baby Steps" album October 1st
was last modified:
November 18th, 2020
by