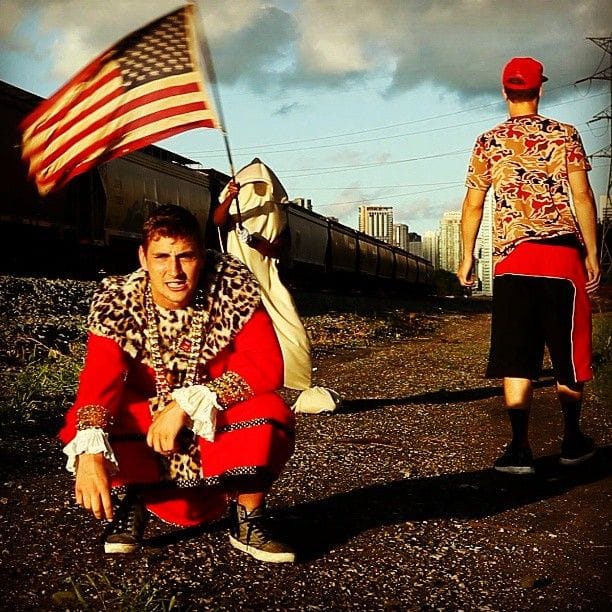 Tuesday, October 15, 2013 – Los Angeles – Chicago native and emerging rapper Trevor the Trashman has released the first single off his upcoming album (TBA, winter 2013).
The obscenely inappropriate "Genius Penius" single is a delightfully childish and funny track. It introduces the world to a multi-talented lyricist, DJ and music producer who has cultivated his career by using an uncensored sense of humor and embracing indifference. The new track hints at what's to come from his much anticipated forthcoming album and is available for download on SoundCloud.

"When this beat came together the very first thing that popped in my head was 'genius penius'," says Trevor the Trashman. "Sometimes a song just comes to you. It's probably the funniest song on the album, I crack up every time I hear it."
Trevor enlisted Brooklyn production collective The Vamp to lend a hand in producing the new track. "We make beautiful music together," he said. "We wanted to make something gritty and filthy and true to hip hop and that's how Genius Penius was born." Trevor worked with The Vamp extensively on the forthcoming album.
"Genius Penius" is an authentic reflection of Trevor's unapologetic style as an artist and allows his story telling skills to shine. Known for his raunchy lyrics and witty rhymes, he influences a fan culture that feeds off the weird and extraordinary. An artist heavily involved in every aspect of his music: writing, arranging and producing, Trevor self-produced his debut EP, Embrace The Weird  [March 2013] and also co-produced, The Classicial Movement Mixtape [May 2012] along with Benny Nice and SmR. Now located in Brooklyn, Trevor the Trashman is putting the finishing touches on his new album. Look for the official music video for "Genius Penius" in the coming days.

About Trevor the Trashman
Born and raised in Chicago, Trevor the Trashman began writing rhymes at the age of 12. In high school he met fellow classmate Benny Nice and began recording songs in his basement, under the name Philosopher Stone. Eventually The Wiggidies Crew was formed. With 8 core members and frequent guests, they recorded hundreds of songs from 2004-2008.
Since then Trevor the Trashman has relocated from Chicago to Brooklyn. In May of 2012, he released The Classical Movement mixtape. The mixtape features 10 songs, and included guest appearances from SmR, upcoming singer, ARiNN ALDO, and former Wiggidies crew member Pimp Jong ILL. With production credits going to Benny Nice, SmR, and Trevor the Trashman himself.
Trevor's upcoming album (TBA, winter 2013) showcases his maturity as an artist. For this album Trevor worked extensively with established producers like Asap Mob's P on The Boards, Nate Fox, Milo, The Vamp, and Roca Beats to cultivate a unique sound that allows him to shine lyrically.
Official website: www.trashmanmusic.com
Facebook: www.facebook.com/trevorthetrashman
Twitter: www.twitter.com/trevortrashman
###
Trevor the Trashman releases wildly obscene Genius Penius single
was last modified:
November 18th, 2020
by