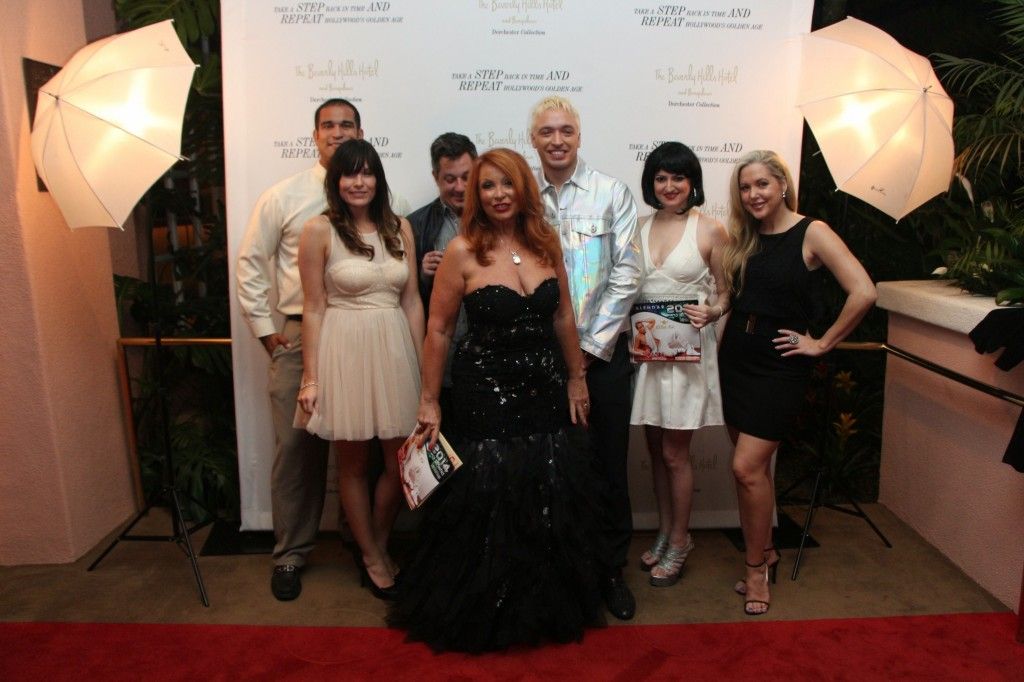 February 7, 2014 – Los Angeles, CA – In celebration of his latest accomplishment, pop artist Kuba Ka joined with friends and family to celebrate the release of his 2014 Apollo Male Models Calendar. Also the face of Apollo Magazine's winter edition cover, the new calendar features Kuba in a variety of themes and is currently available at kuba-ka.com.
Hosted by his close friend and actress Vikki Lizzi, Kuba unveiled the new Apollo Calendar at the posh Beverly Hills Hotel. Guests included Christina Fulton, Christina De Rosa, Damon Epps known for Flavor of Love and America's Got Talent, producer of Kuba's forthcoming television show and others.
"It was a magical night at a very special place for me – The Beverly Hills Hotel, with my dearest friends," says Kuba. "I was very honored to celebrate my first ever calendar for the prestigious – Apollo Male Models."
The private celebration included the 60th birthday of his mom, attorney/manager Tina Trozzo. Guests dined on champagne and cake and received free copies of the new calendar. The hotel was the first home for many months for the entertainer and remains one of his favorite hideaways. Kuba will be releasing his newest single, "Here We Go" and begin production of his television show this spring.

About Kuba Ka
Critics have dubbed Kuba Ka as a "stage-animal" – a moniker given to the budding star whose known for his high-octane live performances. "From my very early childhood, I felt the force of nature to become the entertainer. That's who I am – driven by all parts of me," says Kuba. "The stage is my life, show is my world!" As a teen, Kuba was featured in the Polish edition of ELLE magazine and has been highlighted throughout his native country of Poland for his contribution to the arts.
Discovered by the late Frank Dileo, one-time manager of the late Michael Jackson, Kuba is gearing up for his formal US debut. First, a largely anticipated album that includes the hot dance song, "Physical Attraction" and the popular club track "In The Streets" which features the work of four-time Grammy nominated producer and re-mixer Steve "Silk" Hurley. With the new album, "King of the Night" forthcoming, Kuba continues to stay busy with upcoming feature films, fitness modeling, and unveiling plans for his non-profit organization.
###
Kuba Ka celebrates debut of 2014 Apollo Calendar at The Beverly Hills Hotel
was last modified:
February 7th, 2014
by