For Immediate Release
Chart-topping group unleashes excitement with new single and 47 city tour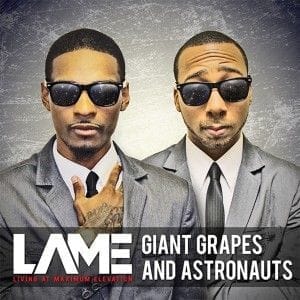 September 27th, 2012 – Los Angeles, CA – With the radio success of their first single, "Giant Grapes and Astronauts" music industry trendsetters L.A.M.E. are steamrolling toward the top of the charts. L.A.M.E. (Living at Maximum Elevation), a group composed of Clifford Clements and Michael Taylor are currently on a national 47 city tour promoting their debut effort.
The hit single, "Giant Grapes and Astronauts" has quickly taken root on the top 200 DRT national charts and continues to climb. Their success has also prompted the interest of several industry execs and record labels in addition to droves of new fans.
The duo kicked off the tour last week in Louisiana at Nicholls State University and will continue visiting several other colleges and universities as their promotional tour unfolds. Tour stops include performances in Arkansas, Mississippi, Alabama, Georgia, South Carolina, North Carolina, Virginia, D.C., New York, West Virginia, Ohio, Kentucky, Missouri, Kansas, Oklahoma and ends later this fall in their home state of Texas.
The official title and release date for LA.M.E.'s debut album are still in the works.

About L.A.M.E. (Living at Maximum Elevation)
Clifford Clements and Michael Taylor simply known as Mr. Moe and M. Taylor are a dynamic duo that combine the phenomenal group L.A.M.E. (Living at Maximum Elevation). L.A.M.E. is a hip hop group who has decided to broaden themselves and turn pop. They have opened up for chart topping musicians consisting of Drake, Young Jeezy, Trey Songz, Wiz Khalifa and Wale just to name a few. This is not just any ordinary pop group. They have many acquired skills and talents.
Clifford "Mr. Moe" Clements, born in Dallas, Tx, attended K.D Studios College and exceeded in graduating. Now only at the age of 23 Mr. Moe is also known for being an actor, musician and film producer. He has produced films such as "Stepping the Movie", which consisted of stars like Anthony Anderson, Monique and Fazion Love. The film reached an overwhelming 800,000 copies.
Michael "M.Taylor" Taylor is also a native of Dallas, TX. At the age of 24 he is not just an artist but also a producer and spectacular musician. He attended Stephan F. Austin where he accomplished his bachelors' degree. Not only is this extraordinary duo skilled and talented but they also have the brains to take them to the top.
First single by L.A.M.E. is "Giant Grapes and Astronauts which touch the top 200 DRT national charts at 22 and counting." This is not your normal pop group they dance, write, sing, rap and produce. They are what we call in the industry a complete and total package. There shows have been described as being jaw dropping, eye popping and totally unbelievable.
L.A.M.E. is not just a group it's a movement. Be a part of this incredible experience and unique style.
For more information on L.A.M.E. and their tour schedule visit:
Official website: http://www.weneedmorelame.com
Facebook: http://www.facebook.com/weneedmorelame
Twitter: http://www.twitter.com/mrmoemusic & http://www.twitter.com/mtaylorraps
L.A.M.E. Makes Introduction with "Giant Grapes and Astronauts" Tour
was last modified:
November 17th, 2020
by