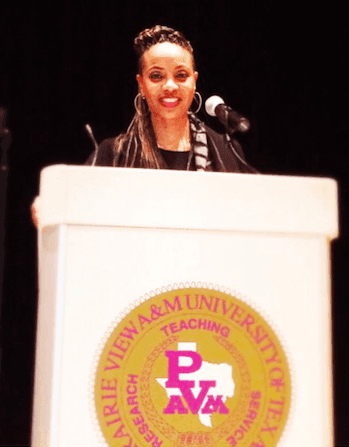 Legendary lyricist, DJ, voice over talent, actress, entertainer and icon, MC Lyte offered nothing less than words of encouragement and inspiration to the students of Prairie View A&M University on Monday, February 23rd.
In support of PVAMU's Black History program "Black Lives Matter" event, MC Lyte was warmly received as students waited in anticipation for her to take the stage with her words of wisdom.
About MC Lyte
Lyricist, pioneer, icon, inspirational speaker, veteran and entrepreneur describe one of the most prolific and well-respected female Hip Hop artists of our time: MC Lyte. A pioneer in the industry, she opened the door for future female Hip Hop artists by daring to do what had never been done while doing something she loved. MC Lyte has graced network television as well as the big screen and she has been the voice behind the VH1 Hip Hop Honors and national campaigns for Wherehouse Music, Coca-Cola, McDonald's and Nike. Learn more
Please Contact us for speaking engagement opportunities, booking requirements, available dates and further information at your convenience: +1 (310) 295-4150.
MC Lyte speaks to students at Prairie View A&M University
was last modified:
November 17th, 2020
by