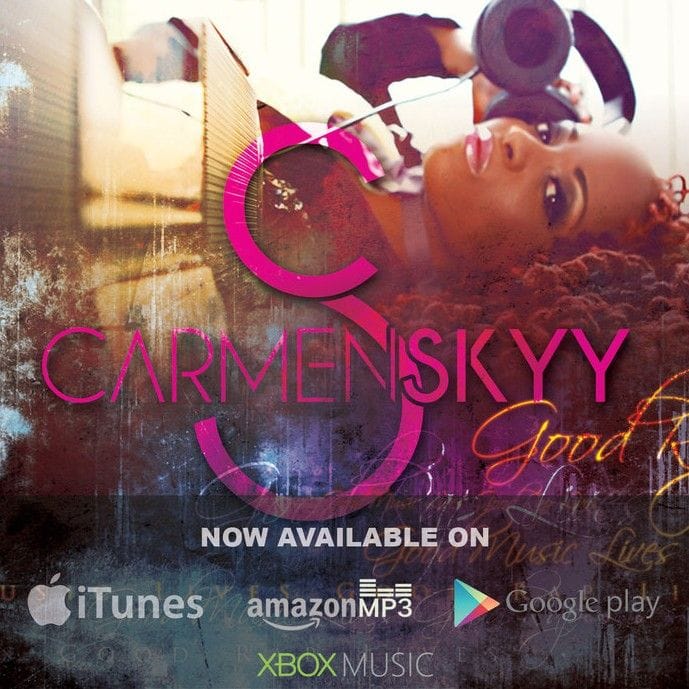 Tuesday, May 6, 2014 – Los Angeles, CA – Emerging electro-pop princess Carmen Skyy has released her debut EP album entitled "Carmen Skyy." The Miami native is one of the most popular new artist featured on this year's Winter Music Conference's (WMC) compilation album. Her singles, Stay, produced by Elliot Waite and I Dream About You, produced by Don Jarvisare steadily being added to radio, and two of the four hip hop/electro-pop infused tracks featured on her EP.  The new EP is currently available on iTunes, Amazon, Google Play, Xbox and various online retailers.
Written and produced by Carmen Skyy, the new project includes collaborations with producers Don Jarvis, Elliot Waite, Francis Le Vesta and Epistra. An undeniably fun-filled EP, the album features a selection of high energy music guaranteed to get the attention of electronic, hip hop and r&b music lovers alike.
"I had such a great time recording with such talented producers," said Carmen. "This cross-genre EP is sure to attend to the listeners seeking the booming beats with lyrical content!"
Former radio personality for Under the Radar, Carmen Skyy's charismatic personality is also reflected in the music she creates. Known for her soulfully dynamic vocals and poetic contributions as a hip hop lyricist, she often channels her culturally diverse background and personal experiences to make each song unique, and more importantly connect with her fans.

About Carmen Skyy
Born to a Haitian father and a Venezuelan mother, Carmen's cultural diversity is a critical element in the music she creates. Carmen cites wide-ranging musical influences such as Michael Jackson, Lauryn Hill and John Mayer, which certainly shine through in her songwriting and pop sensibilities. Several of her songs are currently being played on various radio stations throughout the country. In addition, Carmen's music has also been placed on soundtracks and other media including the film "Brother's Gonna Work It Out," MTV's "The Real World," and a "Starburst Fruit Chews" radio commercial.
Official website: www.carmenskyy.com
###
Miami pop artist Carmen Skyy releases self-entitled EP
was last modified:
November 17th, 2020
by