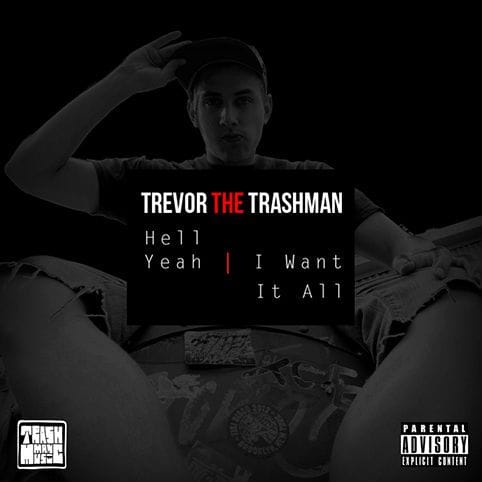 Los Angeles – Tuesday, March 25, 2014 – Just days after dropping the last of his album's singles, today rapper Trevor the Trashman has released his long awaited album, Hell Yeah I Want It All (Trashman Music). The full-length project features 15 tracks styled with Trevor's colorful sense of humor and features collaborations from some of the hip hop industry's latest contributors. Hell Yeah I Want It All is now available on iTunes.
Featuring production from Nate Fox, Benny Nice, The Vamp, P On The Boards, Roca Beats, Trampy and Mohdalsoul, Trevor's debut album delivers a collage of reality-infused stories and anthem-worthy songs mixed with his witty wordplay. It also includes several collaborations from other artists, including one from rising Chicago rapper Vic Mensa in the hit track "Top Me Off" which has been featured on TheSource, FakeShore Drive, 24 Hour Hip Hop, Nah Right and others.
Trevor the Trashman talks about Hell Yeah I Want It All:
"One of the few things that have remained constant in hip hop over the years is that authenticity is prized above all and counterfeit rappers are sniffed out and dealt with accordingly. I make music that is authentic to myself, and my experience on this earth without trying to fit into a superficial mold. Over the past year I've put my heart and soul into my first full-length studio album. I believe so strongly in the 15 songs on this album that I put my entire reputation behind it."
An official website dedicated to the album is also available for fans to interact and keep up with the latest news coming from Trashman Music. Album previews with the newest singles are also available at Hellyeah-iwantitall.com
About Trevor the Trashman
Born and raised in Chicago, Trevor the Trashman began writing rhymes at the age of 12. In high school he met fellow classmate Benny Nice and began recording songs in his basement, under the name Philosopher Stone. Eventually The Wiggidies Crew was formed. With 8 core members and frequent guests, they recorded hundreds of songs from 2004-2008.
Since then Trevor the Trashman has relocated from Chicago to Brooklyn. Trevor's album Hell Yeah I Want It All showcases his maturity as an artist. For this album Trevor worked extensively with established producers like ASAP Mob's P on The Boards, Nate Fox, Milo, The Vamp, and Roca Beats to cultivate a unique sound that allows him to shine lyrically. His last project, Embrace The Weird (2013) was an EP featuring the popular track, "Love You Down."
Trevor the Trashman drops long awaited album, Hell Yeah I Want It All
was last modified:
September 16th, 2023
by