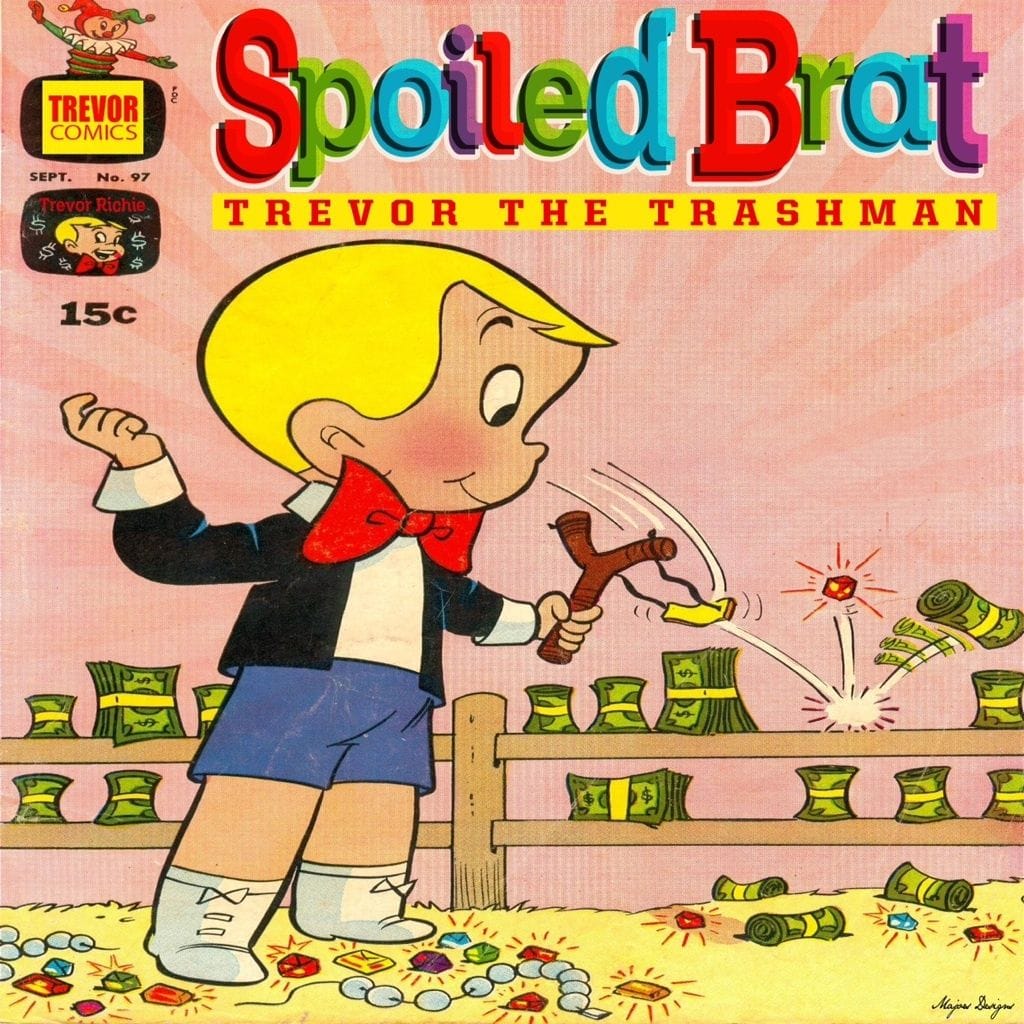 January 8, 2014 – Los Angeles, CA – The third single to be released off Trevor the Trashman's forthcoming album Hell Yeah | I Want It All, "Spoiled Brat" is a very honest, and vulnerable song over smooth and soulful production. Produced by good friend and longtime collaborator Benny Nice (The Wiggidies Crew), the latest track offers a glimpse inside Trevor's thoughts. "Spoiled Brat" is currently available on SoundCloud.
Trevor on Spoiled Brat:
It sounds very stripped down to the bare bones compared with a lot of my other songs. It's me acknowledging that I can be a bit of an asshole and making no apologies for it, "I want to have the mashers and the gravy, and you to celebrate me/ Even though I'm selfish and an asshole, hopefully your memory is hazy," he raps.
In the song, he warns other to stay away when he's feeling moody, "I'm in love with the chase, I gotta conquer it all/That means the muffins and the pastries and the coffee in the morning… I will use you til I use you up I'm offering a warning," referencing one of his all time favorites, Bill Withers.
The Chicago-born artist will debut his new album Hell Yeah | I Want It All February 2014. Having recently performed at Tammany Hall, Trevor the Trashman is currently gearing up for a series of performances and appearances in the New York area.
About Trevor the Trashman
Born and raised in Chicago, Trevor the Trashman began writing rhymes at the age of 12. In high school he met fellow classmate Benny Nice and began recording songs in his basement, under the name Philosopher Stone. Eventually The Wiggidies Crew was formed. With 8 core members and frequent guests, they recorded hundreds of songs from 2004-2008.
Since then Trevor the Trashman has relocated from Chicago to Brooklyn. In May of 2012, he released The Classical Movement mixtape. The mixtape features 10 songs, and included guest appearances from SmR, upcoming singer, ARiNN ALDO, and former Wiggidies crew member Pimp Jong ILL. With production credits going to Benny Nice, SmR, and Trevor the Trashman himself.
Trevor's album Hell Yeah I Want It All (February 2014) showcases his maturity as an artist. For this album Trevor worked extensively with established producers like ASAP Mob's P on The Boards, Nate Fox, Milo, The Vamp, and Roca Beats to cultivate a unique sound that allows him to shine lyrically. His last project, Embrace The Weird (2013) was an EP featuring the popular track, "Love You Down."
Facebook: www.facebook.com/trevorthetrashman
Twitter: www.twitter.com/trevortrashman
###
Trevor the Trashman releases Spoiled Brat single, produced by Benny Nice
was last modified:
November 18th, 2020
by