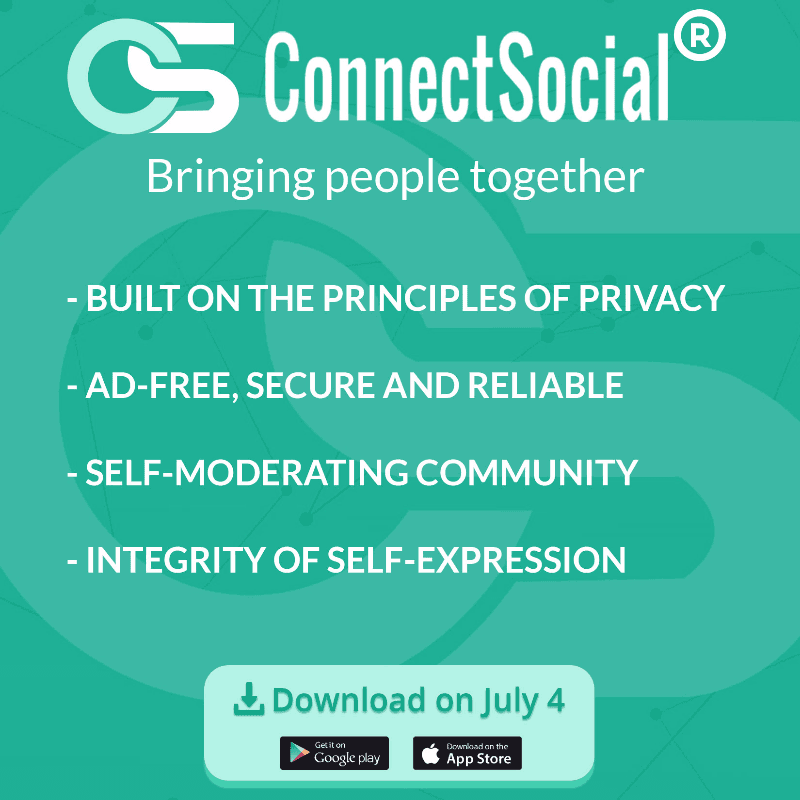 Online Privacy is a Key Component of New Social Network
New York, NY – June 27, 2018 — With recent news of security breaches of major online companies and social network platforms, privacy has become a top priority for social media users. That's why new social media app ConnectSocial® provides a reliable alternative to Facebook. Along with top-notch privacy features, ConnectSocial® still contains the elements that social media users are familiar with, including the ability to share posts, instant message, create pages and groups, like and comment on posts, and send event invites. Unique features add thoughtful touches to the overall user experience.
The essential part of ConnectSocial® is the close attention paid to security and privacy for users. ConnectSocial® was built to be an alternative that puts privacy at the forefront instead of in the background. It will include measures to keep users' data secure and simple privacy settings allowing users to block, hide, and disable other users' posts.
ConnectSocial® is designed to bring people together and to be a safe platform for social interaction. Through liking, sharing, and commenting on others' ConnectSocial® posts, users can forge new relationships and connect with old friends. The chat function allows real-time interaction and includes features like sharing text, photos, and even location.
The defining feature of ConnectSocial® is that it is ad-free. Users won't have to worry about being bombarded by ads while scrolling through content. Also, the self-moderating community provides a safe environment built on respect. ConnectSocial® makes it easy for users to hide and report content they consider inappropriate, which the ConnectSocial® team will investigate and remove. The beta version of ConnectSocial® will be available for download on IOS and Android devices on July 4th. The app will be officially launched on July 24th.
About ConnectSocial® Inc
ConnectSocial® is a revolutionary social networking platform founded in 2018 in Palo Alto, CA. ConnectSocial® Inc identified the need for an alternative to Facebook and other major social networking apps, and ConnectSocial® was born. The paid app offers users multiple benefits included greater security, an ad-free experience, and a self-moderating community along with other standard features such as the ability to post and share photos, videos, form groups and comment on other users' photos and videos.

Website
https://www.connect.social
ConnectSocial® Inc to Release Beta Version of New Social Media App on July 4th
was last modified:
June 28th, 2018
by