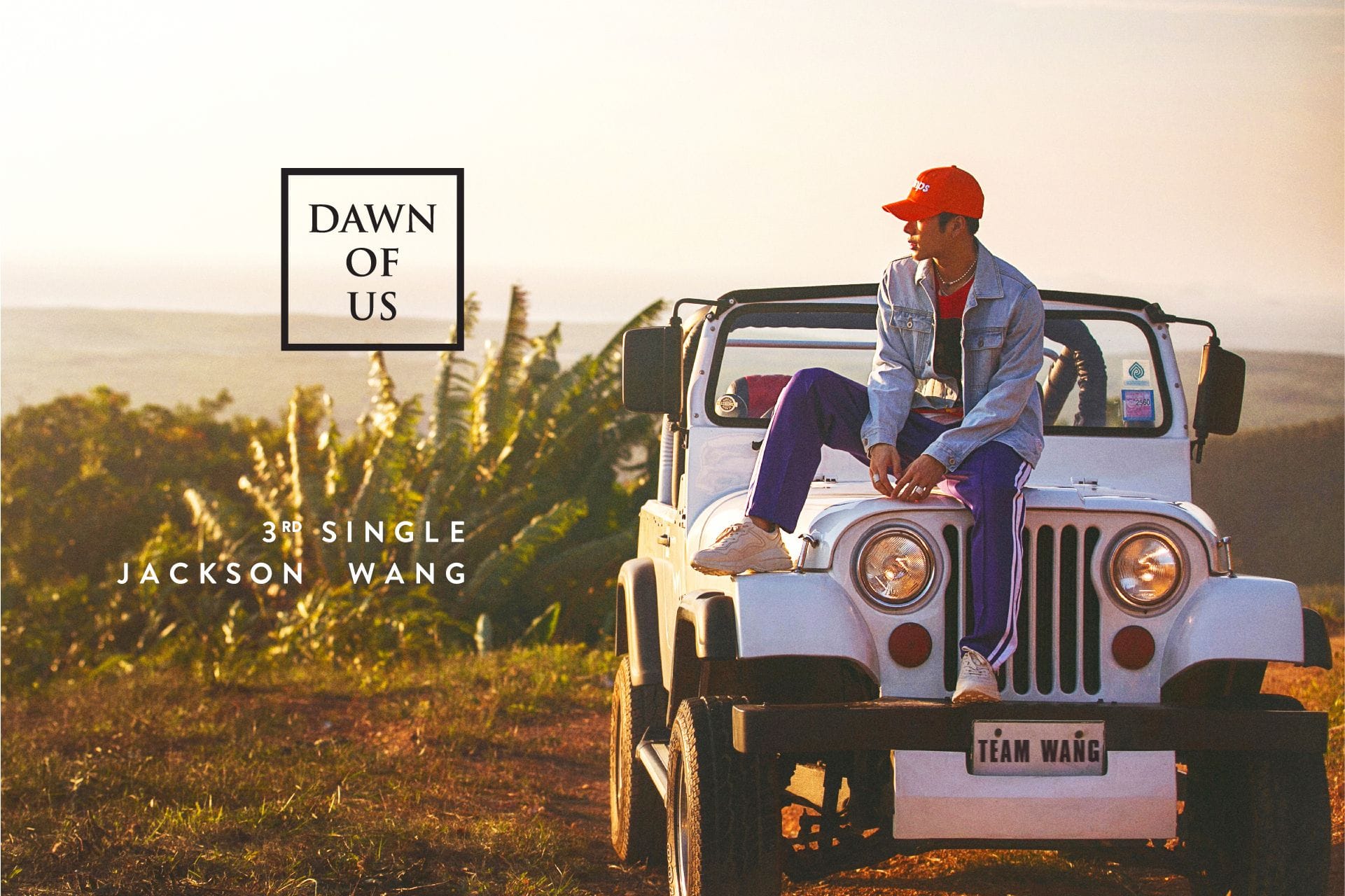 Los Angeles, CA – April 27, 2018 — Asian superstar Jackson Wang released his latest single "Dawn Of Us" a week ago, and it's heating up the charts across the globe. Music critics have responded to "Dawn Of Us" with high praise, as have Jackson's loyal fans whose comments, numbering in the millions, have lit up online discussion boards. These comments show signs that "Dawn Of Us" is truly the most replay-worthy song of the summer. As one listener said "I have been replaying it for a few days with no boredom," and another says "Jackson's new song makes people feel like a spring breeze," a nod to the emotional impact of the song which has obviously moved so many fans.
In return for his fan's devotion, Jackson is devoted in return. Every single he releases is a message to his fans. In "Dawn Of Us" Jackson makes a promise to his fans, that he is "trying to be the best of myself and not letting you down," alongside his message of dedication to hard work with a focus on the power of self-transformation. Jackson strives to be a living model of this message, he shows his fans how hard he works and how he has made his own dreams in the music industry come true.
"Dawn Of Us" has truly taken audiences across the world by storm. Over 630 million people have listened to "Dawn Of Us" on over 130 channels across the globe including Singapore, Bulgaria, Russia and New Zealand. In the US "Dawn Of Us" has topped the iTunes music charts coming in at #22 in American Top Songs, #41 on the Daily Chart, and #6 on the Pop Chart. In Thailand, Philippines, Malaysia, and Vietnam, "Dawn Of Us" shot straight to the top of the charts. In China "Dawn Of Us" tops the YinyueTai V Chart, Netease Cloud Breakout Chart, and New Songs Chart simultaneously, and is also a trending Weibo global topic.
For more visual music fans, there is an accompanying music video for "Dawn Of Us" that uses symbolic cinematography to perfectly capture the meaning of the song. Beautiful visuals gently lull viewers into a summertime feeling, one of freshness, newness and endless possibility. Moments both small and large are captured in a grand, cinematic style in order to remind us that each day is a precious gift. Nautical imagery invites us to leave the past behind and sail into the sunrise and welcome the new day.
The artistry of the video has allowed it to capture viewers hearts and minds, and vault it to great popularity. As soon as it is released, it quickly swept across major video platforms globally. On both VEVO and YouTube, the video garnered over 200,000 views in only 1 hour. Currently, the "Dawn of Us" music video has over 1.5 million views. In China, "Dawn Of Us" topped the YinYueTai V Chart and the YinYueTai Taiwan and Hong Kong Chart, with a total view of over 3 million views. The video is available on all major platforms and is on track to being one of the most popular music videos of all time.
About Jackson Wang
Jackson Wang is a K-Pop star and media personality from Hong Kong, China. He is most well known for his work with the boy band GOT7, a group known for their dance performances inspired by breakdancing and martial arts. Jackson is also well known for his TV appearances across a broad range of genres, including dramatic series, variety shows and hosting a popular cooking show. He regularly engages with his fans on Weibo, which has led to him being one of the most searched artists in China. Jackson's latest project is his debut solo release, "Papillon." For more information, follow Jackson on Instagram or Weibo (@jacksonwangG7).
YouTube Link: www.youtube.com/JacksonWangVEVO
###
Jackson Wang's New Single "Dawn Of Us" Climbs Charts Across the Globe
was last modified:
April 27th, 2018
by