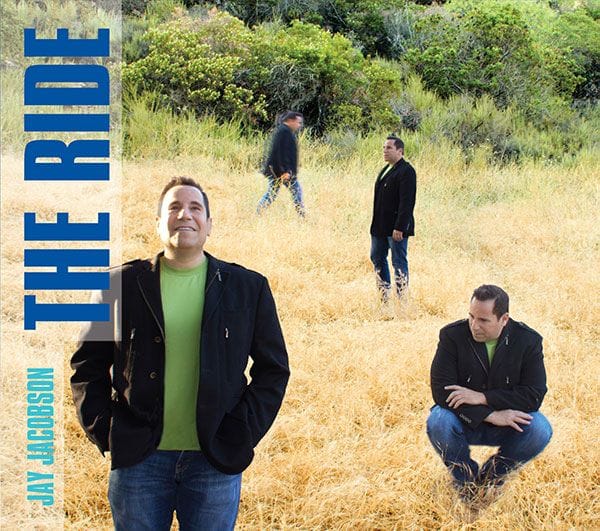 Acclaimed singer songwriter Jay Jacobson has announced the release today of his fifth full-length studio album, the eagerly awaited CD titled, "The Ride". Known for his amazing tenor voice and ability to connect with his audience through his beautifully composed songs, Jay Jacobson's latest effort is an album that delivers a one-of-a-kind experience of emotional trip-hop, electronic dance and soulful ballads set against modern day pop influences. "The Ride" is now available on iTunes at: http://buff.ly/1v8vmoc Amazon, CD Baby and several other online retail outlets.
From the personal heart tugging ballad, "Maybe One Day", to the whimsical exuberance of "Taking the Long Way Home", and the infectious dance anthem, "Animal", "The Ride" is an emotional roller coaster ride of 11 all-original tracks which shed a unique spotlight on life's exhilarating journey. Each song perfectly expressed through Jay's thought-provoking lyrics have the ability to connect with people from all walks of life.
The album has received glowing reviews noting Jay's impeccable vocals and the powerful messages embedded within his music:
"Having a well layered background akin to a large act like Coldplay… incredibly radio friendly and has a very large potential for listener reach. I heard a voice that loves not only theatrical novelty, but spreading happiness as well. A warm and influential record, listening should evoke a high risk of encountering gentle tones, warm vibes, and desire to hit repeat." – HyPursuit
"Jay Jacobson makes a memorable impression… There are classical influences as well as soaring vocals. He has an amazing tenor voice that glides between melodies. All the piano parts are beautifully rendered that they sound magical… uplifting… artfully crafted… You better pick this recording and the rest of his albums because I am sure you will love his kind of music!" – Sphere Music
"Jay Jacobson does an awesome job in the vocals department, hitting such high notes that I could only imagine hitting in my lifetime." – Indigo Indie
"…bouncy-ness of beats that keeps the music fresh and alive… Jay Jacobson has the talent and style that is indeed worth that listen, because it jumps at you each time you hear it." – Nataliez WorldIn 
In addition to the new CD, Jay Jacobson will also release the official music videos for a few of the CD's singles this fall.

About Jay Jacobson
A Los Angeles based singer and songwriter (originally from Philadelphia), Jay Jacobson, has released five full length CDs of his original music which have been played on radio and podcasts around the world. He was recently named "The One to Watch" on the "Off the Charts" UK radio show. His CD, "Ready", includes the Top Ten internationally charting single, "Boy". In 2010 he released his first music video for the song, "Love is Love", (from his CD "Revelations") which created a buzz (including stories in USA Today Online, On Top Magazine, and Towleroad), and went on to win multiple awards in film festivals. Jay wrote, performed and produced a hugely successful live one-man-show, "Mental Creatures", which followed the journeys of three different people (a young painter, a widowed woman, and an elderly man) along with several supporting characters, weaving songs from his catalogue of CDs throughout the show. This critically acclaimed show and audience favorite had a successful six week run in Hollywood, California at "The Lounge Theater 2". It was his first play as a writer or producer.
Official website: www.jayjacobson.com
Los Angeles based singer-songwriter Jay Jacobson announces "The Ride" album release
was last modified:
June 6th, 2016
by