Sponsor consulting agency offers "how-to" approach on proposal development and securing sponsors
January 20, 2014 – Los Angeles, CA – A&M Entertainment's new Sponsorship Power Toolkit is a sponsor-securing tool developed primarily for event producers, industry professionals and business owners. This new toolkit offers professional guidance to assist individuals with sponsorship preparation and presenting the proposal to prospective sponsors.
Sponsorship Power Toolkit highlights the importance of proposal objectives and structure that contribute to the success of sponsorship sales. This toolkit is now available at www.amworldgroup.com/store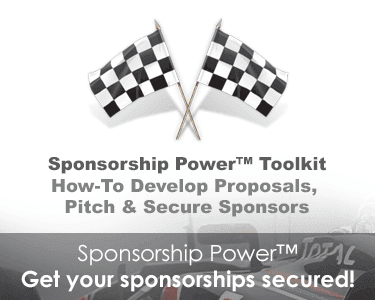 With a continual increase of available sponsorship dollars over the past several years, sponsorship is undeniably one of the most powerful forms of securing funds for events. A majority of similar sponsorship products only offer pieces of the puzzle while the Sponsorship Power™ Toolkit Phases gives users access to everything they need in order to create a professional proposal and secure sponsors on their own.
The toolkit is suitable for: Event promoters & planners, Educational Institutions, Sport Teams, Exhibits and Fairs, Racing Teams, Government Agencies, Non-profits, Venue Owners, Labels & Musicians and Other Organizations.
The Sponsorship Power™ Toolkit includes several key documents; Sponsorship Proposal Templates, Sample Sponsorship Letters, Sponsorship Proposal Examples, Sponsorship Agreement, Sponsorship Strategy Guide and Pitching Spreadsheets. Each document is customized to make the process easy to follow for busy event producers and other professionals. "We've made some further improvements and have updated our toolkit after receiving valuable feedback from our clients" says managing director Keetria Garner-Chambers.
The toolkit includes proven strategies from A&M's Sponsorship Experts on How to Develop a Winning Sponsorship Proposal, How to Target Prospective Sponsors and How to Sell Sponsorship Packages. The included strategy guide also gives users a blueprint on how to make their proposal stand out from the rest.
For more information on the Sponsorship Power Toolkit and other A&M products, click here.

About AMW®

AMW® is an International talent representation, marketing and entertainment group founded in 1997. They have in their years of existence established a unique and strong business network within the entertainment industry representing a diverse roster of event properties, consumer brands, Grammy Award winning artists and multi-platinum selling producers and DJs.
The company offers a wide range of live entertainment, event planning, publicity and sponsorship consulting & development services for national and international clients.
About AMW PR & Publicity
Boost your visibility and achieve significant milestones through one of the premier public relations firms offering tailored campaign strategies. Our team boasts an extensive directory of media contacts eager to hear your story. Notably, as a foremost PR agency, we collaborate intimately with reporters and editors, enriching their newest articles. Our clientele have been featured in renowned platforms like Billboard, Men's Fitness, Salon Privé, and beyond.
Discover More About Our PR Services
New Sponsorship Power Toolkit for Event Organizers
was last modified:
October 31st, 2023
by