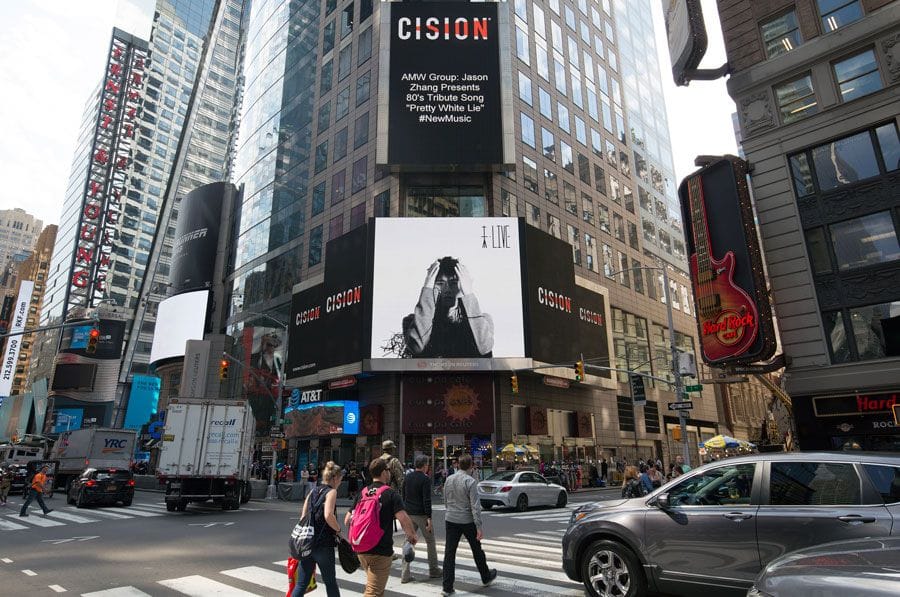 A vital part of promoting your music is to constantly showcase it to as many people as possible. What better place to broadcast your latest release than in Times Square, where approximately 415,000 people drive and walk through every day? Recently, we displayed the title song artwork of our client Chinese pop star Jason Zhang's latest EP "FUTURE·LIVE" in front of those thousands of people on Reuters Sign in the heart of Times Square. At 22 stories tall and over 7,000 square feet, the Reuters Sign is one of the largest digital signs in the world.
Jason Zhang is a pop singer and media personality based in Shanghai, China. Jason came onto the music scene in 2004 as the champion of "My Show." From there, Jason's career has skyrocketed with numerous awards, hit albums and TV appearances, including his 33 awards for Most Popular Male Singer and his 12 titles as Best Male Singer. His latest world tour, The Sound of My Heart Tour, sold out venues in the US, Canada, Malaysia, Australia, Italy and the UK. Jason's songs have appeared in Hollywood movies, and his performances at the CCTV Spring Festival Gala have been well received by fans. In 2016, Jason founded his own label, Planet Culture. He continues to frequently appear on television, his latest show is "Produce 101" where he acts as a vocal mentor to aspiring pop stars. Follow Jason on social media.
Official Instagram: https://www.instagram.com/justforstar
About AMW PR & Publicity
Boost your visibility and achieve significant milestones through one of the premier public relations firms offering tailored campaign strategies. Our team boasts an extensive directory of media contacts eager to hear your story. Notably, as a foremost PR agency, we collaborate intimately with reporters and editors, enriching their newest articles. Our clientele have been featured in renowned platforms like Billboard, Men's Fitness, Salon Privé, and beyond.
Discover More About Our PR Services
Pop Singer Jason Zhang's Latest Release Showcased in Times Square
was last modified:
October 31st, 2023
by