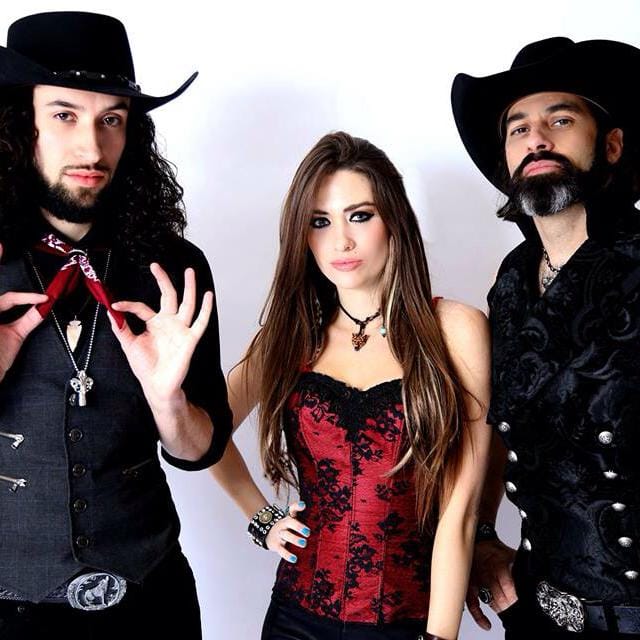 Los Angeles, CA – October 21, 2015 — One of country music most dynamic trios Angel Mary & The Tennessee Werewolves (AMTW) have released their new single "Ramblin". Recorded at the legendary Sam Phillips Studio in Memphis, the band's uniquely styled sound and dedication to creating music their fans will enjoy is what have made them an industry staple. "Ramblin" can be heard on many country radio stations around the country and Europe in addition to the band's YouTube channel at http://buff.ly/1LBxD0r
Featuring an electric guitar collaboration led by multi-platinum guitarist Kenny Olson, "Ramblin" is a timeless musical piece in which the strong vocals of Angel Mary truly bring the song's concept to life. The band recently described the new single as, "A powerful country ballad that you want to hear over and over again."
The trio is currently putting the finishing touches on the official "Ramblin" music video that will premiere this month on GAC, Heartland, The Phil Mack International Country Show on Sky TV and ZUUS networks. The video features AMTW rocking custom clothing designed and provided by Elydjah Design of Paris, France and Bootights, USA. There are also several exciting cameos appearances by William Lee Golden, Robert Reynolds, Doug Phelps, Manuel and Capt. Jack. You can check out the video teaser below:
For more information and news on Angel Mary & The Tennessee Werewolves, please visit:
www.tennesseewerewolves.com
About Angel Mary & The Tennessee Werewolves
Angel Mary and The Tennessee Werewolves a new family trio Country sensation bring a rebel yell to Country music. With the cool collective sounds of old fashion dixie roots, bluegrass picking, Haggard styled lyrics and rocking high energy vocals. The Band Consist of Angel Mary on Lead Vocals and Guitar, Christian Wolf on Vocals and Drums, and Antoine Wolf on Vocals and Bass Guitar. Make no mistake this is a Family tradition, "pass the biscuits please". Angel Mary, Christian Wolf and Antoine Wolf are all related.
###
Angel Mary & The Tennessee Werewolves release new single, "Ramblin"
was last modified:
June 6th, 2016
by