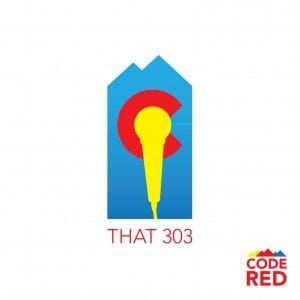 Tuesday, June 17, 2014 – Los Angeles, CA – Denver based music label C.O.ID (COLLECTIVID) has released the first single and music video from its debut album project Code Red featuring emerging Colorado hip hop artists Black Prez and H*Wood; Their first collaborative effort "That 303" pays homage to their hometown city of Denver. The new track is now available on iTunes.
Produced by DJ Five8 and written by H*Wood and Black Prez "That 303" boasts of the Mile High City perfectly blending hip hop and electronic music. Mixed and mastered at After Master Studio in Hollywood, the track is accompanied by an official music video that will premiere on Black Prez YouTube Channel. Shot and edited by Treble Child Media in Colorado, the uniquely fun video highlights some of the city's main attractions while showcasing the free-spirited influence of both Black Prez and H*Wood.
"Embodied with Colorado's hometown culture and injected with mainstream sound,
"That 303" has international appeal with creative local edge," says Code Red executive producer Taver Tor.
Both increasingly popular artists within the Colorado music scene, Black Prez and H*Wood have continued to turn heads. Bringing their own versatile contributions to the table, Black Prez is known for his clever lyrics and witty punch lines; While H*Wood offers grit and inspiration with a confident but humble delivery. Between the duo, they have managed to garner an impressive audience of fans and supporters and have shared the stage alongside such acts as Wiz Khalifa, Big Sean, E40, New Boyz, Young Buck, Talib Kweli, and Warren G to name a few.
About C.O.ID (CollectivID)
As they gear up for the official release of their new single "That 303", Denver area rappers H*Wood and Black Prez are determined to turn heads with their uniquely combined lyrical styles. Fused with elements of EDM and live band, the two offer an entirely youthful and refreshing approach to the new era of Hip Hop.
Official website: www.coderedalbum.com
###
Denver Music Label C.O.ID debut "That 303" single and music video
was last modified:
November 17th, 2020
by