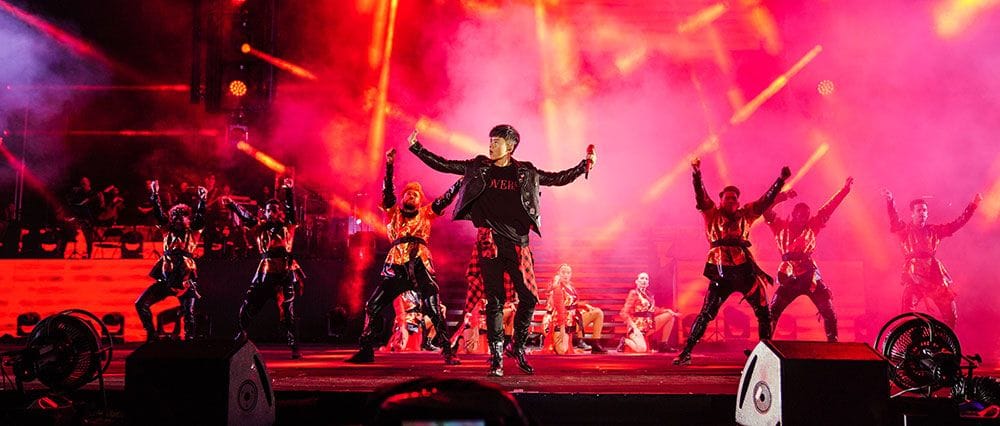 New Music Video "Jump" Premiers on August 23rd

Los Angeles, CA – August 21, 2018 — "FUTURE·LIVE 2" EP, C-Pop Superstar Jason Zhang's sequel to hit EP "FUTURE·LIVE," is surpassing all expectations and thrilling audiences around the globe. Millions of fans worldwide have experienced the love Zhang brings through his music since the release of "FUTURE·LIVE 2" on August 10th.  

A new Jason Zhang release is big news, the story of "FUTURE·LIVE 2" was featured in premier entertainment destinations across the globe including Times Square in New York City, and Hong Kong Time Square, Social media was ablaze with "FUTURE·LIVE 2" news, the hashtag Jason Zhang FUTURE·LIVE (#张杰未LIVE#) was viewed over a billion times, garnering 5 million comments on Weibo. The latest music video for the single "Super Life" was viewed on YouTube by 5 million people in just 168 hours. 

The second single from the EP, "Jump" gets it's own music video on August 24th. Zhang is known for his artistic experiments. His latest music video will celebrate the upbeat, life-affirming, confidence building spirit that has become his trademark while treating viewers to something new and exciting. "Jump" will premiere on VEVO at 22:00 EST on Thursday, August 23.
Fans lucky enough to be in Taiyuan on August 24th will be lucky enough to have the chance to catch Zhang perform in person at the Shanxi Sports Center Stadium at Taiyuan. Zhang gives his all to his fans. His concerts cover 40 of his greatest hits spanning his career including "We Are The Same," "It's Love," and "The Most Beautiful Sun".

Upcoming tour dates include September 8th at the Shenzhen Bay Sports Center, September 22nd when he'll be in Hangzhou at the Zhejiang Huanglong Stadium, and on October 12-13 he'll rock the Chengdu, Sichuan Magic Cube Performing Arts Center. "FUTURE·LIVE 2" is available on all major music platforms worldwide including iTunes, Apple Music, Spotify, Tidal, Google Play, Amazon, Pandora, Deezer, and Beatport.
About Jason Zhang
Jason Zhang is a pop singer and media personality based in Shanghai, China. Jason came onto the music scene in 2004. From there, Jason's career has skyrocketed with numerous awards, hit albums and TV appearances, including his 33 awards for Most Popular Male Singer and his 14 titles as Best Male Singer. His latest world tour, The Sound of My Heart Tour, sold out venues in the US, Canada, Malaysia, Australia, Italy and the UK. Jason's songs have appeared in Hollywood movies, and his performances at the CCTV Spring Festival Gala have been well received by fans. In 2016, Jason founded his own label, Planet Culture. He continues to frequently appear on television, his latest show is "Produce 101" where he acts as a vocal mentor to aspiring pop stars. Follow Jason on social media.
Official Instagram: https://www.instagram.com/justforstar/
Official VEVO Homepage: https://www.youtube.com/channel/UC9Ml4bRhS1v0xnkabLA7MtQ
Official iTunes Homepage: https://itunes.apple.com/us/artist/jason-zhang/368669716
Official Weibo: https://weibo.com/jasonzhangjie?is_all=1
###
Jason Zhang's Hit EP "FUTURE·LIVE 2" Captures The Hearts of Fans Worldwide
was last modified:
September 16th, 2023
by