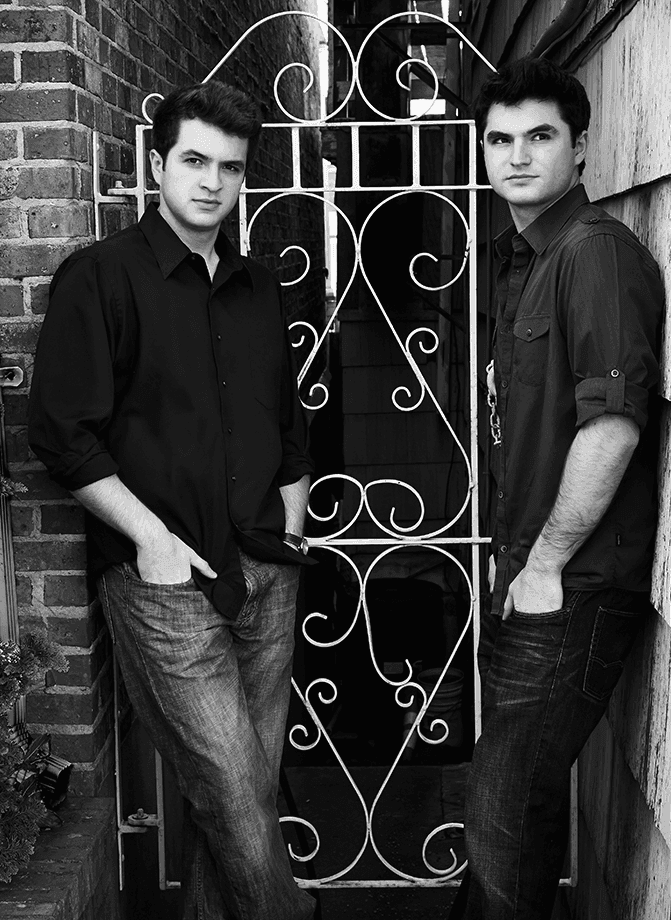 The Como Brothers Band have released music videos of their increasingly popular singles "Straight Face" and "Late Nights". The videos are singles from the band's forthcoming album "Baby Steps" and can be viewed on their official YouTube channel.
Written by brothers Matt and Andrew Como, the music videos were directed and produced by Tom Flynn and Mike Watts of VuDu Studios. The "Straight Face" video is reminiscent of a love-struck gent trying desperately to win the affection of a young lady while "Late Nights" reveals a story of struggle and the hardships that sometimes come with overcoming change in life.
"We wanted both videos to have a hometown feel while at the same time illustrating the very different themes of each song.  Straight Face is light and happy while Late Nights is dark and reflective. I think we accomplished that and we're very happy with each video. " says Matt.
Known for their extraordinary songwriting abilities and true-to-life lyrics, Andrew and Matt Como are also talented vocalists and musicians skilled in guitar and bass. Their ability to genuinely connect with fans through the music has helped The Como Brothers Band build a loyal following throughout the Northeast.
The band has achieved notable success with numerous performances in the tri-state area and has opened for The Wallflowers and Jillian Jensen. Their music has also appeared on E! Network's Keeping Up with the Kardashians, MTV's Real World Portland & St. Thomas, and Oxygen channel's Best Ink.
Upcoming performances include the New York City Marathon on November 3rd; and the CBGB Festival 2013 on October 11 at Tammany Hall. Their first full-length album "Baby Steps" hits stores along with iTunes, Amazon and CD Baby on Tuesday, October 1.
"Straight Face" and "Late Nights" are currently available online at CD Baby.
The Como Brothers Band
Matt and Andrew Como are songwriters and musicians that value organic music, musicianship, and songs with original integrity. All of their songs are credited as written by Matt and Andrew Como. Music is not a hobby of the brothers but a way of life and a career. Early in life their Dad and his brothers played music at family parties and Matt and Andrew were inspired along with their parents encouragement, to play music. Music was a big part of their lives throughout childhood and their teenage years. They extensively played live throughout high school and college and are now an experienced live act having played in bars, festivals and local shows around New York over the past years. In 2010 they officially began the rock band The Como Brothers Band and have been pushing forward for their dreams of a long-term career in music.
Official website: www.comobrothersband.com
Twitter: www.twitter.com/comobrosband
Facebook: www.facebook.com/comobrothersband
The Como Brothers Band release "Straight Face" and "Late Nights" music videos
was last modified:
October 31st, 2023
by