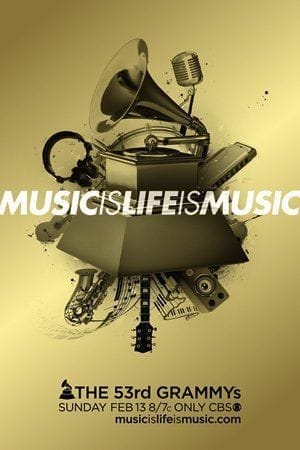 The long awaited, highly anticipated 53rd Annual Grammy Awards will take place in Los Angeles, CA at the Staples Center on Sunday, February 13, 2011.  Every year the excitement mounts as the Grammys near, for both the Artists and viewers. The performances, fashion, and more importantly the nominations are all key components of Grammy night.
The 2011 Grammy Nominations is such a close race it's difficult to predict who will win for each category. The artist with the most Grammy nods is none other than rapper, Eminem. Eminem has had a successful year after taking a step back from the music scene, with the best selling album in 2010 and singles topping the charts, Eminem leads the pack with 10 Grammy nods.  His Grammy nods includes Record of the Year for "Love the Way You Lie" and Album of the Year- Recovery.  Recovery is also up for Rap Album of the Year.  Eminem is also up for Best Rap Solo Performance, Best Rap Song, and Best Pop Collaboration With Vocals.  While Eminem has ten Grammy nominations, the runner up is Bruno Mars with seven Grammy nominations, Lady Gaga, Lady Antebellum, and Jay-Z all have six Grammy nominations each. Jeff Beck, B.o.B, David Frost, Philip Lawrence, John Legend, Ari Levine, and the Roots received five each. Lastly, Alex Da Kid, the Black Keys, Drake, Cee Lo Green, Katy Perry, Rihanna, Dirk Sobotka, and Zac Brown each earned four nominations.
While Sunday, February 13, 2011 is a big night, we certainly can't forget the week leading up to Grammy night. Every year the Grammy Foundation hosts events prior to Grammy Awards night, its mission is to "cultivate the understanding, appreciation and advancement of the contribution of recorded music to American culture". Here are the events:
Wednesday, Feb. 9
GRAMMY Career Day With Support From Best Buy
Start Time: 8 a.m.
Location: University of Southern California, Los Angeles
By invitation only
GRAMMY In The Schools Live!
With guest artists to be announced, and performances by musicians and singers from the GRAMMY Jazz Ensembles and other GRAMMY in the Schools programs
Dinner: 7 p.m.
Performance: 8 p.m.
Location: USC Grand Ballroom, 3607 Trousdale Pkwy., Los Angeles
Purchase tickets
Thursday, Feb. 10
13th Annual Music Preservation Project — "Word Revolution: A Celebration of the Evolution of Hip-Hop
With artists to be announced
Start Time: 7:30 p.m.
Location: Wilshire Ebell Theatre,
GRAMMY Jazz Ensembles Public Performance
With guest artist to be announced
Dinner: 7 p.m.
Performance: 8 p.m.
Location: Spaghettini's Italian Grill & Lounge
Friday, Feb. 11
13th Annual Entertainment Law Initiative Luncheon & Scholarship Presentation
GRAMMY-winning artist/producer Will.i.am will give a keynote address and John T. Frankenheimer, partner and co-chairman of Loeb & Loeb LLP, and chair of the firm's music industry practice group, will be the recipient of the 2011 ELI Service Award
Start Time: 11 a.m.
Location: Beverly Hills Hotel
The award lineup is extremely tight and it'll be interesting to see who wins. Will Eminem keep his top spot and win all ten Grammys? Who will have the best performance of the night? Who will gain fashion "thumbs up or thumbs down"? Will there be any huge surprises? Grammy night will be one to remember, make sure you check it out Sunday, February 13, 2011 on CBS from 8pm-11:30pm (ET/PT).
53rd Annual Grammy Awards
was last modified:
November 17th, 2020
by