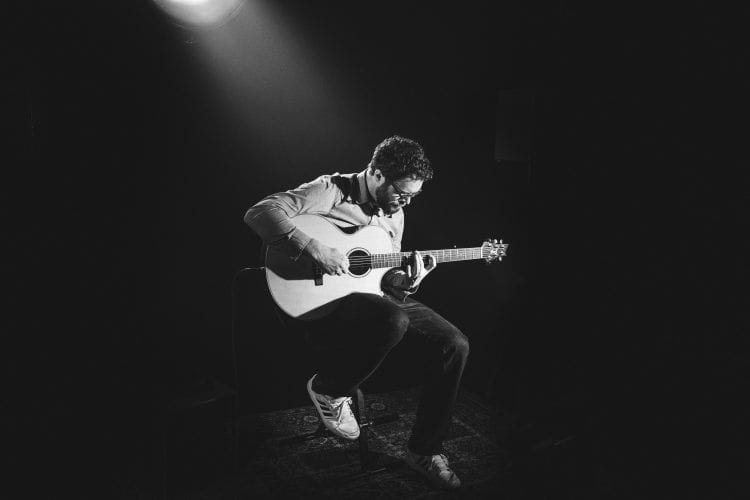 The recent pandemic has affected everyone in a different way. If you're a musician, artist, producer, etc. COVID-19 has made it harder to create and perform your music. People all over the world are trying to figure out how to navigate this time. They're discovering and implementing a new "normal" by putting systems in place that allow them to do the same things they did before while keeping everyone safe.
For artisans in the music industry, it may be hard to navigate what a new "normal" looks like. Read below for 6 ideas on getting started or advancing your music career during the pandemic.
1. Promote on Social Media
With lots of non-essential businesses closing and events being canceled, people have more time to spend on social media platforms. As fans and potential listeners increase their time on social media, so should you. Although you may not be able to record music in the studio or perform live there are so many ways you can use social media to promote you and your music. While it's challenging to host live events, alternative marketing avenues such as billboard ads can help boost your presence.
Posting your music on Instagram, TikTok, Facebook are quick and easy ways to promote your music if you know what you're doing. First, make sure your music accounts are public so it'll be easier for new people to discover your music. Post snippets of new music in feed posts or stories and provide links to sites, such as Spotify and Apple Music. On TikTok, you can easily upload origins audio files by using the InShot – Video Editor app. You can also schedule posts in advance, via Hootsuite, for ease.
If you're sad you don't get to perform live this year, try live streaming. It is one of the quickest and easiest ways on social media to connect with your followers. If you want, you can also advertise on your social pages, schedule a weekly set, and ask for song requests leading up to the stream.
2. Create a Website
If you don't already have a website, this is the perfect time to build one for your music. A website is the hub or headquarters of your brand. This is where you can provide an in depth biography, previews/links to your music and social accounts, contact information, merchandise page, and include information about upcoming projects and events.
WordPress or Wix are easy to use website creators. They both have hundreds of templates and ideas for bringing your site to life and their most basic packages are free. If you have the budget, it is best to upgrade from a free account so that you can have a custom domain. Custom domains allow you to forgo "wordpress" or "wix" in your url.
These services also allow you to add your own domain if you happen to already own one. Squarespace and Bluehost are online services that help you easily set up your own web host and domain, which will only increase professionalism and ease for your website.
3. Get on Spotify Playlists
If you've been in the music business for a minute, you're probably already trying to get your music on Spotify playlists. If you're not, you should start now. Similarly to the increase of social media site viewing, music streaming has increased due to the pandemic. Whether you're targeting playlists or hiring a company to do it for you, there are some things you can do to increase engagement and a following.
Like a fast food drive thru, listeners want their music and they want it now. They don't want to wait to access it and they don't want to wait to hear the best parts of the song. Songs that are shorter, usually around 2 minutes in length, are optimal for listeners. Songs with long intros or slow builds often encourage listeners to skip them.
Create an account on Spotify for Artists. This allows you to verify your Spotify profile, tell your story, promote your music, and measure engagement.
4. Make the Most of Your Down Time
Most artists don't realize that it's impossible to truly become a sensation overnight. Artists like Lizzo or Lil Nas X seemed to have come out of nowhere, but it took them years of creating music and working hard before their efforts paid off. When thinking of your career, you have to look at it as a long game.
Use the downtime you have now to create a long term plan for your career. Set a specific, achievable plan, methods to measure your success, and realistic, time-bound goals. Review the music you've put out so far, look at what has worked and what maybe hasn't. Base your future projects on the information you find.
There are likely hundreds of thousands of people that are dealing with the same issues, thoughts, and emotions you're going through during quarantine. So why not write some songs about them?
Additionally, now may be a good time to learn a few things from the experts. Platforms like MasterClass can educate and reinforce your methods for creating, writing, and producing music.
5. Gain Media Coverage
When creating a long term plan you also have to develop a long term release plan, factoring in media coverage. Specifically, online media coverage is the most effective form of media coverage nowadays. Electronic press releases can increase the legitimate Google search results and are easily shareable on social media.
Whether you're new or seasoned in the game, hiring a professional PR company to help you navigate and publish your upcoming releases/accomplishments.
6. Sell Merch
Selling your merchandise is a skillful way to promote yourself even if you don't have current music out. Post giveaways on your social media pages, send exclusive promo codes to winners of a fun, online contest. Try to come up with fun, creative ideas to engage your audience when you're not performing or releasing music. For example, send a "merch box" to the winner of a contest. Include a t-shirt,, laptop sticker, magnets, or whatever other merchandise you have.
6 Ways to Advance Your Music Career During A Global Pandemic
was last modified:
September 16th, 2023
by