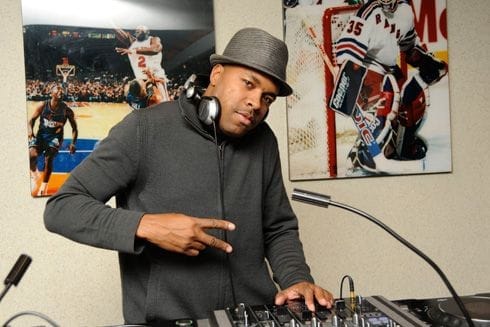 D-Nice is the stage name of beatboxer, rapper, producer and photographer Derrick Jones (born June 19, 1970 in Bronx, New York), who began his career in the mid-1980s with the hip hop group Boogie Down Productions. D-Nice was also known as "The Human TR-808", and through his beatboxing skill and friendship with DJ Scott La Rock, would join the Bronx-based Boogie Down Productions. He was first heard as a solo artist on the radio promo, "The TR808 is Coming" which was produced by the Late DJ Scott Larock and KRS-One. D-Nice later left BDP to form 40th Street Black Music & Management with long time friend and collaborator Tony Rahsaan, but always maintained an affiliation with BDP.
As a solo artist, his most successful song was 1990's "Call Me D-Nice", a self-produced track built around an organ sample from The Turtles' "Buzz Saw."
Through his 40th Street Black firm, he helped guide the careers of other groups including The UMC's, Craig-G, Organized Konfusion and The Fu-Schnickens among others. He released two solo albums, 1990's Call Me D-Nice and 1991's To Tha Rescue, both through Jive Records.
D-Nice is now DJing some of the hottest special events and private parties around. Contact us today for availability and booking requirements.
DJ Spotlight: Legendary D-Nice
was last modified:
November 17th, 2020
by