After years of being on stage with Beyonce the singer-songwriter-saxophonist set to release debut album May 22nd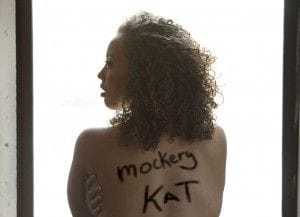 Los Angeles, CA – Tuesday, May 8th, 2012 – After performing alongside many world-renowned superstars Kat Rodriguez has come into her own with her debut album, "Mockery." A project, which was several years in the making, "Mockery", is the creation of a singer-songwriter at heart known for her extraordinary talent as a sax player.
The album itself is slated for release on May 22nd, 2012 and features production from Keyon Harrold of KeyKat Productions. The anticipated single also titled "Mockery" will be released on May 8th with the official music video forthcoming. Behind the scenes footage of the video will also be released.
"Mockery represents the struggle of my life from when I decided to quit my nine to five and focus all of my energy on doing what I love, believing in myself and in my talent. Going forth no matter what!" says Kat. "I been working on my music too long and I have something special to say!"
The debut effort already has spectators concurring that Kat Rodriguez is an undeniably talented vocalist with more than enough accolades under her belt.  Currently back on tour with Beyonce, Kat Rodriguez will soon be hitting the road for a tour of her own. Both the single and album will be immediately available on iTunes, Amazon and Spotify.
About Kat Rodriguez
Kat Rodriguez (aka Kat) is an incredible saxophonist, singer, songwriter, arranger, and composer with an accomplished resume. As a saxophonist in Beyonce Knowles' all female band, she has toured the world with one of the best but is now ready to show the world what she is made of. Kat is currently putting the finishing touches on her debut project and performing her single, "Mockery", all over the country. The wonderful mix of R&B and Pop is one that is missing in the music industry right now. The use of live band instruments stays true to Kat's Jazz influence but with catchy hooks and up-tempo beats, the listener is bound to get up and dance.
In 2006, Beyonce Knowles held auditions for an all female band. Being one of 1,000 girls who auditioned and was handpicked by Beyonce herself, she took a break from singing for the opportunity of a lifetime. Since then, Kat has recorded The Beyonce Experience and the I…Am tour (with a feature solo on both DVD's), plus numerous TV appearances which include: Oprah, Ellen DeGeneres, Today Show, Good Morning America, Tyra Banks, Bet Awards, Black Girls Rock Awards, American Music Awards, Fashion Rocks, Grammy's, and the World Music Awards.
She has performed with Robert Glasper, Latin Percussionist Louis Bauso and Patato Valdes, JJ Hairston and Youthful Praise, Jay-Z, Kanye West, Slim thug, George Michaels, The Roots, Monica, Keri Hilson, Marsha Ambrosius, Fantasia, Ledisi, Kelly Price, Jill Scott, VV Brown, as well as many others. She has also recorded with Destiny's Child, DJ Mark Ronson, Mobb Deep, Kid Kid, 50 Cent, Anthony Hamilton, Big Krit, Big Boi, Trumpeter/Producer Keyon Harrold and KeyKat Productions, and Beyonce…  just to name a few.
Working with and touring with Beyonce inspired Kat. "When I was younger, I would always pretend to sing in front of the mirror with a brush. Yes, it sounds cliché, but I did it. I've been fortunate enough to travel the world and share the stage with Beyonce. Now that I've seen the masses chant her songs, my heart yearns even more now to follow my childhood dream" says Kat. That is exactly what she is doing.
With her musical background and extensive performance experience, she blends talent and drive to create the phenomenon that is Kat Rodriguez.
###
Official Website: www.katrodriguezmusic.com
Facebook: www.facebook.com/katrodriguezmusic
Kat Rodriguez Readies "Mockery" Album
was last modified:
November 17th, 2020
by