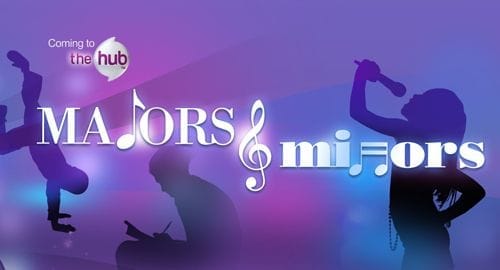 Los Angeles, CA. – The Boardwalk Entertainment Group announced today that after yesterday's wildly successful open casting call at The Reality Rocks Expo in Los Angeles, they have officially launched the next stage of casting for Majors & Minors — the talent search for kids to be mentored by the biggest and most established artists in the music industry. The series premieres this fall on The Hub, a TV network for kids and their families.
Parents can apply on behalf of their children and submit their children's video auditions at: http://majorsandminorscasting.com
The new groundbreaking music-based performance competition is thrilled to announce that Brandy and Mike Posner will guest appear on the show. Already set to appear is Leona Lewis, Jordin Sparks, Sean Kingston and One Republic's Ryan Tedder. These "Mentors" will help guide the talented young cast as they embark on their individual journeys toward achieving their dreams.Boardwalk principal Evan Bogart, the songwriting hit-maker for music stars Rihanna and Beyonce, along with Boardwalk partners and acclaimed TV producers Timothy Bogart and Gary A. Randall will produce the series for The Hub in partnership with Sony Music Entertainment's The RCA /JIVE Label Group and BMI.
There will be no "losers" on Majors and Minors. Over the course of the 15-episode series the entire cast will be taught by the guest "Majors/Mentors," sharpening and honing the skills they come in with, ensuring that everybody leaves the experience better prepared to make the journey to capture their dreams ahead. While no one ever gets "voted off," at the end of the series one lucky cast member, viewed by the celebrity mentors and producers as having the greatest breakout potential, will win a recording deal (with Boardwalk and the RCA/JIVE Label Group), a music publishing deal, and the chance to become the featured star in a cross-country live tour with the entire cast.
CASTING INFORMATION:
ONLINE CASTING LAUNCHES TODAY and is open to children ages 8-16. For information on how to apply and to learn how to submit online video auditions, please visit majorsandminorscasting.com.
ABOUT THE BOARDWALK ENTERTAINMENT GROUP
Boardwalk's principals' collective credits include the highly anticipated new singer/songwriter reality series "Platinum Hit" for BRAVO Hosted by Jewel with Kara DioGuardi as Head Judge; the Holly Hunter starring "Saving Grace" for TNT; as well as A&E's highest-rated scripted series in their history, "THE GLADES." Timothy and Evan Bogart are the sons of legendary Music Pioneer, Neil Bogart, whose Casablanca Records launched the careers of such megastars as Donna Summer, KISS, Parliament, The Village People and whose earlier career brought the likes of Gladys Knight, Bill Withers and Curtis Mayfield to the world. Boardwalk, their father's last company before passing away in 1982, is their homage to him by picking up where their father left off, bringing music, film and television together in a slate of new projects spanning across all mediums. Boardwalk has just signed with CAA to orchestrate the launch of this new company.
Evan Bogart is a three-time Grammy-nominated #1 hit songwriter and renowned Music Producer; writer behind such smash hits as Beyoncé's "HALO" and Rihanna's "SOS," as well as winning a number of BMI Songwriter Awards.

ABOUT THE RCA/JIVE LABEL GROUP
RCA/JIVE Label Group comprises RCA Music Group (J Records, Arista Records, RCA Records, Polo Grounds) and JIVE Label Group (Jive Records, LaFace Records, Volcano Entertainment, Hitz Committee Entertainment, Battery Records, Verity Gospel Music Group). RCA/JIVE Label Group consists of a diverse roster of internationally renowned artists including Justin Timberlake, Alicia Keys, Britney Spears, Ke$ha, OutKast, Kings of Leon, Leona Lewis, Chris Brown, Kelly Clarkson, P!nk, Christina Aguilera, Usher, Dave Matthews Band, Jamie Foxx, Buddy Guy, Daughtry, Foo Fighters, Three Days Grace, Whitney Houston, Tool, Ciara, Sarah McLachlan, Kirk Franklin, Avril Lavigne, Jennifer Hudson, Donnie McClurkin, and many more. RCA/JIVE is a label group of Sony Music Entertainment.

ABOUT BMI
BMI (http://ww.bmi.com) is a global leader in rights management, home to such superstar songwriter/artists as Lady Gaga, Taylor Swift, will.i.am, Pink, Eminem, Kara DioGuardi, Lil Wayne, Kid Rock, Juanes, Carrie Underwood, Shakira, Keith Urban and Toby Keith, along with such legendary songwriter/artists as John Lennon, Kris Kristofferson, the Jacksons, the Bee Gees, Paul Simon, Brian Wilson, Willie Nelson, James Brown, Carlos Santana and Dolly Parton, among others.

ABOUT THE HUB
THE HUB is a multi-platform joint venture between Discovery Communications (NASDAQ: DISCA, DISCB, DISCK) and Hasbro, Inc., (NASDAQ: HAS) with a goal of entertaining, enlightening, empowering and educating children and their families. The cable and satellite television network features original programming as well as content from Discovery's library of award-winning children's educational programming; from Hasbro's rich portfolio of entertainment and educational properties built during the past 90 years; and from leading third-party producers worldwide. The Hub lineup includes animated and live- action series, specials and game shows, and the network extends its content through a robust and engaging online presence, www.hubworld.com . The Hub rebranded from Discovery Kids on October 10, 2010, and reaches approximately 62 million U.S. households. The Hub logo and name are trademarks of Hub Television Networks, LLC. All rights reserved.
Major & Minors Casting
was last modified:
October 23rd, 2012
by